The Show Fixtures window
You use this window to select and configure the fixtures that you want to use in the current show.
Select a fixture type from the list in the upper left area of the window. Click the Add button to add a fixture of this type to the show.
If you want to add multiple fixtures of the same type to your show, you set the fixture count in the "Number of fixtures to add" field.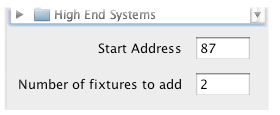 The list on the right contains all the fixtures in the current show. In this list the fixture names and the fixture addresses can be changed.

When adding fixtures, a value can be set in the "Start Address" field for the start address to be used for the next fixture that will be added. By default this field contains the next DMX address that is not in use yet.
You can remove fixtures from the show by selecting them in the list on the right, and hitting the Remove button.